Biodegradable, Recyclable and Reusable Plastic Glasses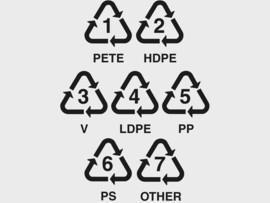 If you are looking for plastic glasses that biodegrade like apple cores, then prepare to be disappointed. You may see plastic advertised as 'biodegradable', but the truth is that there is actually no such thing.
That isn't to say there aren't any good choices to be made though, because some cups are definitely 'greener' and more eco-friendly than others.
This is our guide to selecting and using plastic glasses in the most environmentally friendly way possible:
GO FOR recycled plastic: There is a type of plastic called PET (type 1). You probably handle PET in some form every day - think fruit punnets, smoothie cups with dome lids and fizzy drink bottles. PET is the UK's most sought after plastic for recycling and all recycling facilities will readily accept it. The even better news is that you can get plastic glasses made in the UK from recycled PET (rPET). And, of course, as a clear, uncoloured, relatively clean single material, plastic glasses made from rPET can easily be recycled again. Unfortunately PET is not strong enough to support stemware, so only tumbler shapes are available. Please find recycled PET glasses here. Please find all PET glasses here.
GO FOR reusable: Reusable glasses can be made from any type of material. In plastic, the quality ranges from short-term-reusable souvenir cups (ideal for events) to amazingly glass-like, dishwasher safe and unbreakable polycarbonate glasses. Please find examples here, with some of our favourite examples below.
AVOID 'biodegradable plastic': Made from 'PLA' (which derives from GM corn), these glasses are marketed as 'biodegradable'. But they will not biodegrade on your compost heap, or as litter, or in the ground, or in the sea. There are no composting facilities in the UK that will accept them, and additionally they contaminate regular plastic recycling, causing whole batches to be sent to land fill. If this is counter to what you are looking to achieve, then you may want avoid 'biodegradadable'. Regalzone does offer these glasses here, but our advice is still to avoid them unless you can find the facilities to approriately dispose of them.
AVOID 'degradable' plastic: Marketed as 'biodegradable', oxo-degradable plastic is regular plastic that has chemicals added to break it down into smaller pieces of plastic. With the problem of microplastics becoming ever more clear, it is surely better to keep the item in one piece. Our advice is to avoid them. Read more about 'oxo-biodegradable' plastic here.
The options for paper cups are improving: Paper cups are made from card lined with regular plastic or PLA plastic (see above). As a mixed material, they are difficult to recycle in an economically viable and scalable way. The industry is working hard to develop a solution, and there are paid-for recycling schemes, but as of Spring 2019 there is no single-material paper cups available. Please find examples here.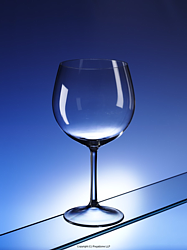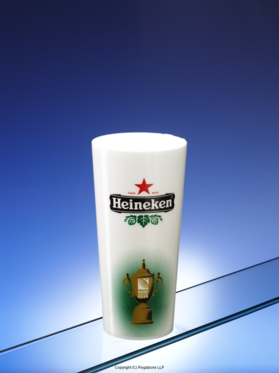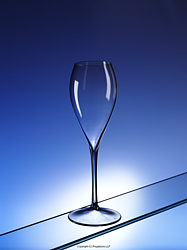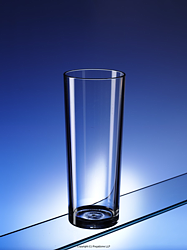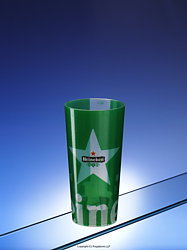 Other Plastic: Polypropylene (type 5) and Crystal Polystyrene (type 6) are used to make most other single-use plastic glasses. While these plastics are not as sought after as PET (see above), they are clean, uncoloured, single material plastic and will readily be accepted in mixed recycling. Polypropylene remains the most inexpensive, while crystal polystyrene remains the only option for stemware. Please find polypropylene examples here. Please find crystal polystyrene examples here.
FURTHER READING ABOUT 'BIODEGRADABLE' PLASTIC (PLA) AND DEGRADABLE PLASTIC
The Times: The compostable products that could take years to break down (June 2019)
Environmental Journal: Public warned not to confuse compostable and biodegradable (bags) (May 2019)
The Guardian: We won't save the Earth with a better kind of disposable coffee cup (September 2018)
The Guardian: Biodegradable plastic 'false solution' to Ocean Waste Problem (May 2016)
Huffington Post: Bioplastics and the Truth About Biodegradable Plastic (January 2016)
The New York Times: The Myth of Biodegradability (February 2012)
European Bioplastics: Oxo-Biodegradable Plastic Increasingly Under Fire in Europe (February 2017)
Tree Hugger: The Big Awful Truth about Biodegradable Plastics (May 2016)
The Guardian: 'Sustainable' bio-plastic can damage the environment (April 2008)
The United Nations Environment Program: Biodegradable Plastics Are Not the Answer to Reducing Marine Litter, Says UN (2015)
Quest: Biodegradable Plastics (June 2014)
Materials World: Biodegradable Plastics - a viable solution or a long term problem (June 2014)
Consumer Advertising Law Blog: Seller beware - Plastic is not biodegradable (November 2011)
New Plastics Economy: Oxo-degradable plastic packaging is not a solution to plastic pollution and does not fit a circular economy.
The Guardian: The Eco Guide to Microplastics
SIDEL: Five reasons why PET is becoming the sustainable packaging material of choice.
GRUNDON: Neil Grundon blog: Taking an (un)fashionable approach to waste management
Filabot: The Misleading Biodegradability of PLA.
ADVICE ABOUT RECYCLING PLASTIC GLASSES
Plastic glasses are easily recycled because:
1. They are uncoloured: coloured plastic is unwanted because although colour can be added, it cannot be removed.
2. They are clean: Unlike many other plastics (e.g. food packaging), plastic glasses are relatively uncontaminated.
3. They are a single material: Disposable plastic glasses are lumps of pure, food-grade plastic of a single type (usually either type 1, 5, or 6).
To maximise the value of your recycling efforts, our advice is to not mix different types of plastic but to keep to a single type. PET (type 1) is the most sought after for recycling, and if you can deliver a batch of uncontaminated PET, your efforts will be rewarded.
Of course, the challenge is to collect the cups in the first place. This can only be done at the event itself. Several years ago, this was not so easy. However, these days, with cup collecting bins now freely available, it is a simple thing to organise. On a small scale, there are many off-the-shelf choices for on-site cup collection that can be branded with event signage. On a larger scale, cup recycling can be a communication opportunity in itself. Please see this fine example from Coca Cola: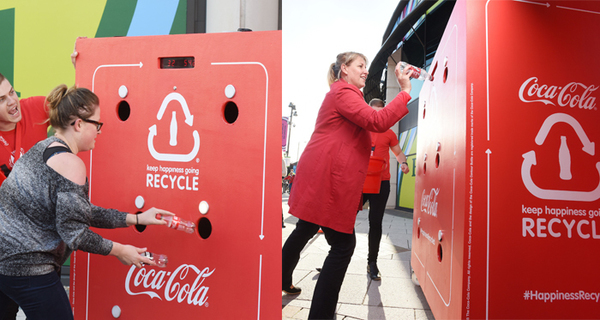 Coca-Cola Enterprises brings interactive recycling bins to Rugby World Cup 2015 Fanzones and Twickenham stadium
FURTHER READING ABOUT RECYCLING
Organics Recycling Group: Concise guide to Compostable Products and Packaging
WRAP: Information resource for plastics recycling, including Mixed Plastics.
Recoup: RECycling Of Used Plastics Ltd, a leading authority on plastics waste management and recycling.
Save-a-Cup: a not for profit dedicated plastic and polystyrene recycler
www.simplycups.co.uk - Simply Cups is currently the UK's ONLY paper cup collection and recycling service.
Regalzone would welcome any feedback readers may have on this article. Please address your comments to us using the Contacts Form.