Plastic Glasses For Events and Outside Bars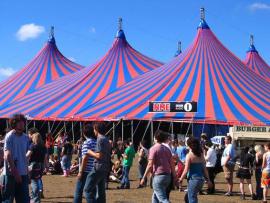 Sports stadiums, concert venues, summer festivals, pub / beer gardens, and even Buckingham Palace garden parties use plastic glassware supplied by Regalzone and its distributors. These customers return to us year-on-year because of our low prices, the choice, and the level of service we deliver.
RELIABILITY
Regalzone have built a reputation for reliability over twenty five years. Put simply, we will deliver when we say we will so you can concentrate on the more demanding aspects of running an event. On the day, we are easily contactable and will help whenever you need us.
ADVICE
With more than two hundred different types of plastic glasses to choose from and plenty of experience, we are in a position to advise and make suggestions. For example:
When serving wine, we suggest one-piece plastic wine glasses because bar staff won't want to fit the bases to two piece glasses when there is a queue of people waiting.
If possible, go for one type of plastic for all your plastic glasses. This makes them much easier to recycle.
If serving drinks outside in one location on a regular basis, it may be more cost effective to select hard-wearing polycarbonate glassware.
PRINTING & BRANDING
In contrast to what some people may tell you, there are no minimum quantities for getting printed plastic glasses. In addition the lead times are not always measured in months. However, as with all printing, it is generally true that the more you print the more cost effective it is per unit.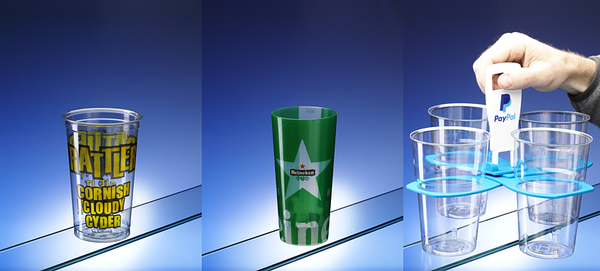 How Much Does It Cost?
The answer will depend on the type of plastic glass, the number of colours to be used, the number of positions and the quantity to be done. The print can cost as little as 1-2 pence per unit if you are prepared to print in pallet quantities. If you want to keep costs down, our advice is to print as many as you can in as few colours as you can.
How Long Will It Take?
Sometimes it is possible to deliver printed plastic glasses in as little as two weeks. However you should plan on it being six weeks to take account of busy periods, large quantities, and to get the best price.
ENVIRONMENTAL CONCERNS
These days, most people will be concerned about the environmental effects of using plastic disposable glasses. However the issue is more complex than many people realise and there are ways to completely mitigate the negative effects.
Regular disposable plastic glasses are the cheapest to buy and they are easily recycled. They are sought after by recyclers because:
1. They are uncoloured: coloured plastic is unwanted because although colour can be added, it cannot be removed.
2. They are clean: Unlike many other plastics (e.g. food packaging), plastic glasses are relatively uncontaminated.
3. They are a single material: Disposable plastic glasses are lumps of pure, food-grade plastic of a single type (usually either type 1, 5, or 6).
The challenge is collecting them. However, these days, with cup collecting bins now freely available, it is a simple thing to organise. Please see this fine example by Coca Cola: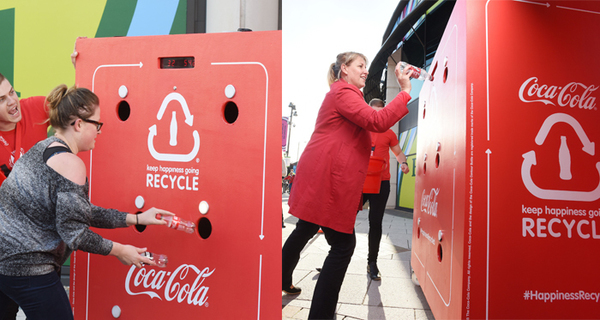 Coca-Cola Enterprises brings interactive recycling bins to Rugby World Cup 2015 Fanzones and Twickenham stadium.
Disposable glasses are still the favoured solution because they can be branded so and deployed in volume for very low cost.
Reusable plastic glasses are considerable more expensive than disposable plastic glasses but because they are reusable they are naturally more environmentally friendly. There are new types of reusable plastic glasses with full wrap photo-realistic branding that can be offered to users in return for a deposit. The users can then return them (for recycling) or take them home as souvenirs.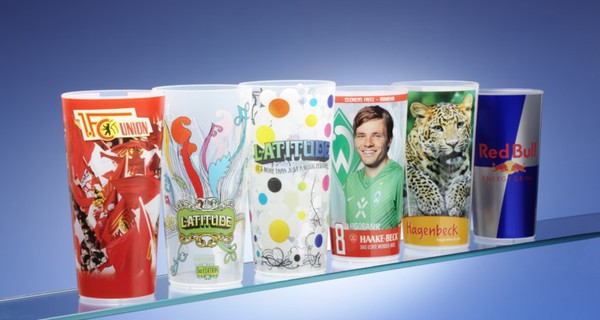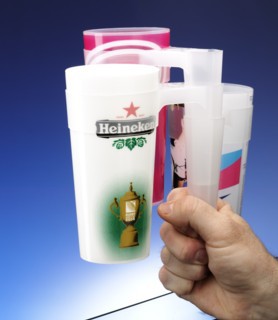 Paper cups are difficult to recycle because they are a mixed material.
Biodegradable cups are a scam. They do not degrade under any normal conditions and contaminate the recycling streams of real plastic, causing entire batches to be sent to landfill. Regalzone can supply them but we do not recommend them.
For an in-depth discussion about these issues, please see our article: Environmentally Friendly Options for Plastic Glasses.